It had been a long day, so a few of the fellows from the class agreed to meet a restaurant downtown. The main courses had been cleared off the table, some beer had been delivered, and we were waiting for dessert. Pedro (not his real name) was complaining, again, about how much time he had to spend doing administrivial tasks—meetings, filling out forms, time sheets, requisitions, and the like. "Everything takes so long. I want a pad of paper to take notes, I have to fill out a form for it. God help me if I run out of forms!"
"How much time do you spend on this kind of stuff each week?" I asked.
Pedro replied, "An hour a day. Maybe two, some days. Meetings…let's say an hour and a half, on average."
Wow, I thought—that's a pretty good chunk of the week. I had an idea.
"Let's visualize this, I said." I took out my trusty Moleskine notebook. I prefer the version with the graph paper in it, for occasions just like this one. I outlined a grid, 20 squares across by two down.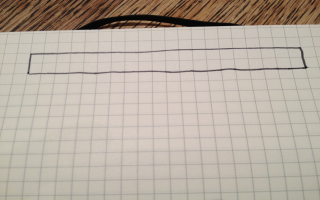 "So you spend, on average, an hour and a half each day on compliance stuff. One-point-five times five, or 7.5 hours a week. Let's make it eight. Put a C in eight squares." He did that.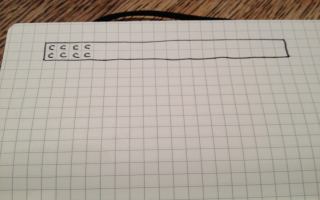 "Okay," I said. "You were griping today about how much time you spend wrestling with your test environments."
Pedro's eyes lit up. "Yes!" he said. "That's the big one. See, it's mobile stuff. We have a server component and a handset component to what we do, and the server stuff is a real bear."
"Tell me more."
"It's a big deal. We've got one environment that models the production system. The software we're developing has been so buggy that we can't tell whether a given problem is general, or specific to the handset, so we have another one that we set up to do targeted testing every time we add support for a new handset. That's the one I work with. Trouble is, setting it up takes ages and it's really finicky. I have to do everything really carefully. I've asked for time to do scripting to automate some of it, but they won't give that to me, because they're always in such a rush. So, I do it by hand. It's buggy, and I make the odd mistake. Either way, when I find out it doesn't work, I have to troubleshoot it. That means I have to get on instant messaging or the phone to the developers, and figure out what's wrong; then I have to figure out where to roll back to. And usually that's right from the start. It wastes hours. And it's every day."
"Okay. Show me that on our little table, here. Use an S to represent each hour your spend each day."
Whereupon Pedro proceded to fill in squares. Ten of them. Ten more. And then, eight more.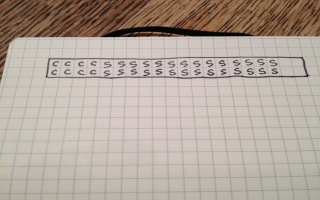 "Really?!" I said. "28 hours a week divided by five days—that's more than five hours a day. Seriously?"
"Totally," said Pedro. "It's most of the day, every day, honestly. Never mind the tedium. What's really killing me is that I don't feel like I'm getting any real testing work done."
"No kidding. There's no time for it. There are only four squares left in the week. Plus, something you said earlier today about tons of bugs that aren't related to setting up?"
"Right. When it comes to the stuff that I'm actually being asked to test, there's lots of bugs there too. So my 'testing time' isn't really testing. It's mostly taken up with trying to reproduce and document the bugs."
"Yes. In session-based test management, that's bug investigation and reporting—B-time. And it does interrupt test design and execution—T-time—which is what produces actual test coverage, learning about what's actually going on in the product. So, how much B-time?" He filled in three of the squares with Bs.
"And T-time?"
He had room left to put in one lonely little T in the lower right corner.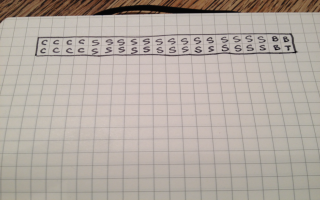 "Wow," I laughed. "One-fortieth of your whole week is spent in getting actual test coverage. The rest is all overhead. Have you told them how it affects you?"
"I've mentioned it," he said.
"So look at this," I suggested. "It's even more clear when we use colour for emphasis."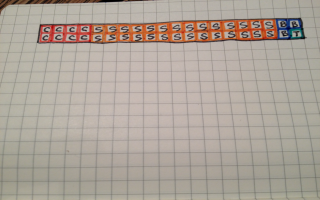 "Whoa. I never looked at it that way. And then," he paused. "Then they ask me, 'Why didn't you find that bug?'"
"Well," I said, "considering the illusion they're probably working under, it's not an unreasonable question."
"What do you mean?" Pedro asked.
"What does it say on your business card?"
"'Software Testing'."
"And what does it say on the door of the the test lab?"
"'Test Lab'," said Pedro.
"And they call you…?"
"Pedro."
"No," I laughed. "They say you're a… what?"
"Oh. A tester."
"So since you're a tester, and since the door on the test lab says 'Test Lab', and your business card says 'Testing', they figure that's all you do. The illusion is what Jerry Weinberg calls the Lumping Problem. All of those different activities—administrative compliance, setup, bug investigation and reporting, and test design and execution—are lumped into a single idea for them." And I drew it for him.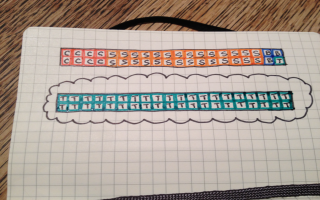 "That's management's illusion, there. Since, in their imagination, you've got forty hours of testing time in a week, it's not unreasonable for them to wonder why you didn't find that bug."
"Hmmm. Right," said Pedro.
"When in fact, what they're getting from you is this." And I drew it for him.
"For testing—actual interaction with the product, looking for problems, you've got one-fortieth of the time they think you've got. One lonely little T. Is that part of your test report?"
"Oy," he said. "Maybe I should show them something like this."
"Maybe you should," I said.
A couple of nights later, I showed that page of my notebook to James Bach over Skype. "Wow," he said. "That guy could be forty times more productive!"
"Forty?"
"Well, no, not really, of course. But suppose the programmers checked their work a little more carefully, or suppose the testers practiced writing more concise bug reports and sharpened their investigating skill. One of those two things could cut the bug investigation time by a third. That would give more time for testing, when they're not being interrupted by other stuff. What if they cut the setup time by a half, and that administrivia by half?"
"Four, fourteen…" I said. "That would give eighteen more hours for testing and bug investigation, for a total of 22 hours. And even if they're still doing two hours of bug investigation for every one hour of testing time… well, that's seven times more productive, at least."
"Seven times the test coverage if they get some of those issues worked out, then," said James.
"Maybe de-lumping is the kind of thing lots of testers would want to do in their test reports," I said.
How about you?