A member of Linked In asks if "a test case can have multiple scenarios". The question and the comments (now unreachable via the original link) reinforce, for me, just how unhelpful the notion of the "test case" is.
Since I was a tiny kid, I've watched trains go by—waiting at level crossings, dashing to the window of my Grade Three classroom, or being dragged by my mother's grandchildren to the balcony of her apartment, perched above a major train line that goes right through the centre of Toronto. I've always counted the cars (or wagons, to save us some confusion later on). As a kid, it was fun to see how long the train was (were more than a hundred wagons?!). As a parent, it was a way to get the kids to practice counting while waiting for the train to pass and the crossing gates to lift.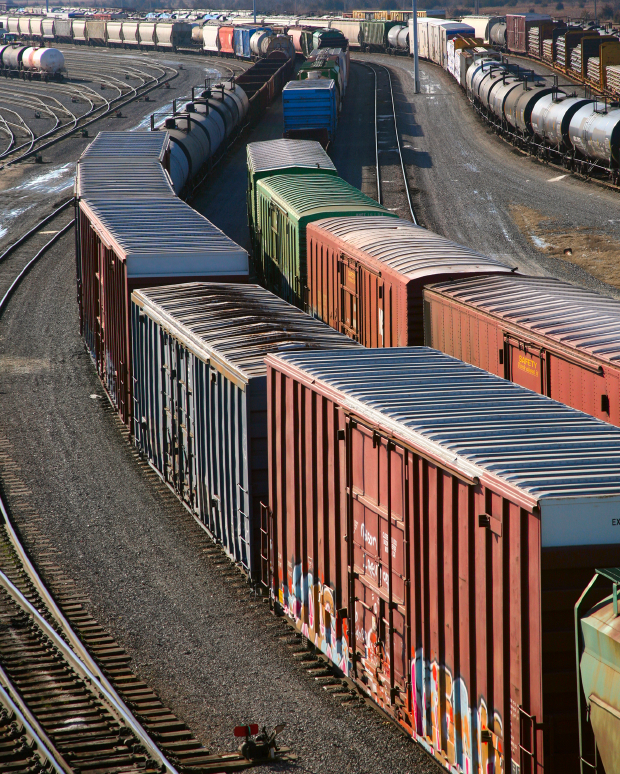 Often the wagons are flatbeds, loaded with shipping containers or the trailers from trucks. Others are enclosed, but when I look through the screening, they seem to be carrying other vehicles—automobiles or pickup trucks. Some of the wagons are traditional boxcars. Other wagons are designed to carry liquids or gases, or grain, or gravel. Sometimes I imagine that I could learn something about the economy or the transportation business if I knew what the trains were actually carrying. But in reality, after I've counted them, I don't know anything significant about the contents or their value. I know a number, but I don't know the story. That's important when a single car could have explosive implications, as in another memory from my youth.
A test case is like a railway wagon. It's a container for other things, some of which have important implications and some of which don't, some of which may be valuable, and some of which may be other containers. Like railway wagons, the contents—the cargo, and not the containers—are the really interesting and important parts. And like railway wagons, you can't tell much about the contents without more information. Indeed, most of the time, you can't tell from the outside whether you're looking at something full, empty, or in between; something valuable or nothing at all; something ordinary and mundane, or something complex, expensive, or explosive. You can surely count the wagons—a kid can do that—but what do you know about the train and what it's carrying?
To me, a test case is "a question that someone would like to ask (and presumably answer) about a program". There's nothing wrong with using "test case" as shorthand for the expression in quotes. We risk trouble, though, when we start to forget some important things.
Apparently simple questions may contain or infer multiple, complex, context-dependent questions.
Questions may have more outcomes than binary, yes-or-no, pass-or-fail, green-or-red answers. Simple questions can lead to complex answers with complex implications—not just a bit, but a story.
Both questions and answers can have multiple interpretations.
Different people will value different questions and answers in different ways.
For any given question, there may be many different ways to obtain an answer.
Answers can have multiple nuances and explanations.
Given a set of possible answers, many people will choose to provide a pleasant answer over an unpleasant one, especially when someone is under pressure.
The number of questions (or answers) we have tells us nothing about their relevance or value.
Most importantly: excellent testing of a product means asking questions that prompt discovery, rather than answering questions that confirm what we believe or hope.
Testing is an investigation in which we learn about the product we've got, so that our clients can make decisions about whether it's the product they want. Other investigative disciplines don't model things in terms of "cases". Newspaper reporters don't frame their questions in terms of "story cases". Historians don't write "history cases". Even the most reductionist scientists talk about experiments, not "experiment cases".
Why the fascination with modeling testing in terms of test cases? I suspect it's because people have a hard time describing testing work qualitatively, as the complex cognitive activity that it is. These are often people whose minds are blown when we try to establish a distinction between testing and checking. Treating testing in terms of test cases, piecework, units of production, simplifies things for those who are disinclined to confront the complexity, and who prefer to think of testing as checking at the end of an assembly line, rather than as an ongoing, adaptive investigation. Test cases are easy to count, which in turn makes it easy to express testing work in a quantitative way. But as with trains, fixating on the containers doesn't tell you anything about what's in them, or about anything else that might be going on.
---
As an alternative to thinking in terms of test cases, try thinking in terms of coverage. Here are links to some further reading: